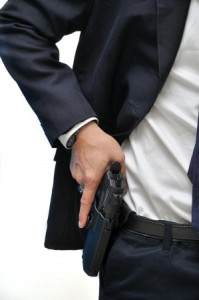 Moving past a felony conviction can be difficult in Oklahoma City, especially when you may not have completely cut ties with the lifestyle you were formerly involved in. However, if you are caught in possession of a firearm after felony conviction in Oklahoma, you will find yourself behind bars again.
About Possession of a Firearm After Felony Conviction in Oklahoma
No matter what state you were convicted of a felony, it is illegal to possess a firearm in Oklahoma, even if it was legally registered. If you were a non-violent felon and also pardoned for your crime, you may be exempt from this law. An attorney can confirm this for you.  (Ok. Stat. Tit. 21 Sec. 1283)
Proving Possession of a Firearm
In order to secure a conviction for possession of a firearm after felony conviction in Oklahoma, a prosecutor will have to prove each of the following elements beyond a reasonable doubt:
First, that the defendant acted knowingly and willfully;
Second, that the defendant possessed/(had under his immediate control)/(had in any vehicle he operated)/(had in any vehicle in which he was riding as a passenger)/(had at the place where the defendant resides);
Third, any pistol/(imitation/homemade pistol)/(machine gun)/(sawed-off shotgun/rifle)/(dangerous/deadly firearm);
Fourth, the defendant was convicted of a felony by any court in the United States.
Defenses
As long as officers did not recover the gun on your person, your attorney can argue that you were not in actual possession of the gun and that you had no control over it at all.
Alternatively, your attorney may be able to negotiate a lesser penalty or even have your charges dropped.
Penalties
Anyone convicted of possession of a firearm after felony conviction in Oklahoma will be guilty of a felony offense. This can result in a prison sentence between one and 10 years.
Free Consultation: Oklahoma City Felony Defense Attorney
If you've been charged with possession of a firearm after felony conviction in Oklahoma, you may be facing serious criminal penalties as a result.
If you've been accused of this crime, call the Criminal Defense Law Office of Oklahoma City at 405-588-4529  (588-4LAW).
If you prefer, send your question directly to an Oklahoma criminal defense attorney by using the contact form at the top right side of this page.
All inquiries are confidential. Also, your first consultation is free.