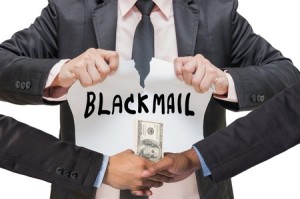 Getting what you want from another person has its limits, especially when you are considering committing blackmail in Oklahoma to achieve your goal.
If you or someone you know has been charged with blackmail in Oklahoma City, get in touch with an experienced criminal defense attorney who can assist in building your defense against this serious charge.
What is Blackmail in Oklahoma?
Blackmail in Oklahoma is defined broadly and no specific action is or is not "blackmail."  However, if your conduct falls within any of the below categories, you may find yourself looking at significant jail time.
Whether in writing or verbally, you can commit blackmail as long as you act with the intent to force another person to take or not take a specific action.
One of the following activities can result in a charge of blackmail in Oklahoma:
1. Accusing or threatening to accuse any person of a crime or conduct which would tend to degrade and disgrace the person accused;
2. Exposing or threatening to expose any fact, report or information concerning any person which would in any way subject such person to the ridicule or contempt of society; or
3. Threatening to report a person as being illegally present in the United States, and is coupled with the threat that such accusation or exposure will be communicated to a third person or persons unless the person threatened or some other person pays or delivers to the accuser or some other person some thing of value or does some act against his or her will.
Blackmail in Oklahoma Punishment
Anyone who is found guilty of blackmail in Oklahoma will be convicted of a felony offense.
If so, they may face up to five years in prison and/or up to $10,000 in fines. (Okla. Stat. tit. 21 § 1488)
Free Consultation: Oklahoma City Felony Defense Attorney
Committing blackmail in Oklahoma City may seem like no big deal, but you can actually face steep penalties.
If you've been accused of a crime, call the Criminal Defense Law Office of Oklahoma City at (405) 588-4529  (588-4LAW).
If you prefer, send your question directly to an Oklahoma criminal defense attorney by using the contact form at the top right side of this page.
All inquiries are confidential. Also, your first consultation is free.